The Project:
Evergreen is now moving forward with the migration from Banner 8 to Banner 9. This project has been in the works for many months now but it officially kicked off January 2018 in preparation for Oracle dropping support for the form technology that supports Internet Native Banner (INB), the forms interface for Banner 8. The deadline for this change is December 2018, a date not to far into the future.
What does this mean to Banner users on campus? Those who regularly use INB forms will find their work in an updated java-based interface now called Banner Admin Pages. The underlying infrastructure will still be for all practical purposes the same Oracle database. The way people interact with Banner though will shift considerably.
The Schedule:
Over the next 4-8 months Banner users will be asked to engage in various levels of testing once Computing and Communication staff move the two platforms into a single/parallel infrastructure, so both Banner 8 and Banner 9 can be used at the same time.
We will be asking our Banner users to test Banner 8 work processes using the updated infrastructure during the month of March. April will then see a shift towards dedicated testing of college workflows in the Banner 9 Admin Pages. Onces these workflows satisfactorily meet the business needs of the different administrative offices, then they can completely migrate their workflows to the new Admin Pages in preparation of the December 31 cutoff of the INB technology. Below is the basic timeline for the project.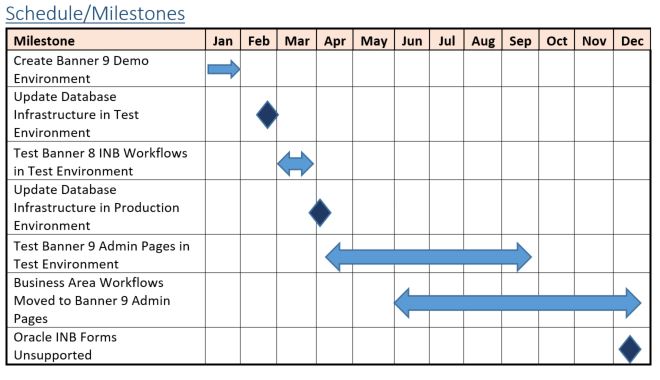 The Project Teams:
Business areas of the college are represented by an area lead. This team member will be responsible for attending implementation team meetings, helping coordinate testing as well as building training strategies for the workflows for their and associated areas who leverage similar forms.
| | | |
| --- | --- | --- |
| Implementation Team Lead | Alternate | Business Area |
| Lori Klatt | Elaine Hayashi-Peterson | Curriculum and Registration |
| Leona Walker | Jo Bernier | Admissions |
| Tracy Hall | Sandra Mann | Financial Aid |
| Beatrice Sapp | Brandon Reed | Student Accounts |
| Jennifer Levesque | TBD | Human Resources and Hiring |
| Ladonna Herigstad | Amy Placette | Payroll |
| Nancy Eastham | TBD | Finance and Budget |
| Kitty Jones | Lori Klatt | Advising |
| Jessica Thrift | Yahui Chi | Advancement |
Project Management:
Rip Heminway is the Banner 9 Project Manager and will be organizing and facilitating meetings for both the implementation and technical teams. Tony Alfonso is the chair of the Steering Committee who will be making decisions as necessary to ensure that an institutional perspective is maintained throughout the implementation process. The steering committee is tasked with defining/untangling policy related issues, securing critical resources and defining broad project outcomes. 
| | |
| --- | --- |
| Steering Committee Member | Department |
| Tony Alfonso (Chair) | Computing and Communications |
| Laurel Uznanksi | Human Resources |
| Dave Kohler | Business Services |
| Erik Pederson | Enrollment Services |
| Rip Heminway (PM) | Computing and Communications |
The management of the project and all documentation will be built in and shared via the Redmine Project Management platform that is maintained by Computing and Communications. If you would like to get access to this more detailed resource, please contact Rip Heminway at X6904.
If you have questions or comments about this plan, please leave them and they will be answered as quickly as possible.