Production Process
Project Treatment
This project has shifted and evolved since it conception, though the goals and main concepts have  stayed constant. Here is my project treatment that I wrote during the project's first stages of development for the program Media Artist Studio, taught by the wonderful Sally Cloninger:
High Strung will be a stop motion animation exploring the personality and psyche of the main character, Elliot that will be based on the archetypical journey of the hero from readings and concepts from The Hero With A Thousand Faces by Joseph Campbell. The central themes and concerns of this piece will be exploring this idea of the archetype of the hero and his journey or quest through the observations of a single individual. I want to explore the concept to get a better understanding of how to tell a great relatable story and to learn the underlining themes and connections of stories told worldwide. I want to explore this concept in stop motion animation because it contains a true essence of tangibility while still containing surrealism. In stop motion animation the character is a physical puppet that is positioned and repositioned for every frame of the animation, which lends the viewer a tangible image to identify with because the character is a real object in a real space. On the other hand, it's still an inanimate object moving and acting as if though it were a living breathing being, which gives for a sense of surrealism and wonder. I feel these are all underlining elements in the journey of the hero.
Campbell says that all stories throughout the world are based on the same themes and structures. This is not due to the retelling of the same stories but instead; these stories come from the very core of the human psyche. In essence, the hero's journey is the common heritage of all human beings. Campbell elaborates by saying dreams are personalized myths, and myths are depersonalized dreams. Though stories are told in different ways and in different languages throughout the world, they all contain this fundamental nature of man's internal fears, wishes, struggles, and emotion. Due to this story being told with no dialog but only gesture and motion, the animation will be able to span across different cultures with little to no misinterpretations or difficulties. This animation will also contain mythological imagery based from countries and cultures from all over the world, which can be identified by people from different heritages. Though different individuals might read the content quite differently, each person should be able to identify with a base element of the story, content, or imagery.
High Strung introduces the viewer into the world of the main character, Elliott, as the role of a mere observer. It is not explained or elaborated what has happened up until this point in time or why you are watching this particular character, Elliott but merely you to his world and daily life. Elliott is an extremely tall and slender figure with four arms, each with three figures and a thumb. He has a slumped posture and often situates himself in awkward and unusual positions with working thinking Elliott lives in a house about twice as big as he is in which he never leaves. Day in and day out Elliot goes about his normal tasks such as playing with puzzles, working on and building with contraptions, and organizing the large amount objects around his him. Over time through certain situations and mannerisms of Elliott, it slowly becomes apparent that he never and doesn't want to leave his house. The viewer is introduced to this relationship of Elliott and the outside world. As the story progresses, Elliott will begin to show signs of fear, resentment, but also apathy towards this world outside of his normal existence. Through this process the tension between Elliott and the outside world will begin to build where Elliott will begin to have bizarre flashes, terror visions, and nightmares of abstract images from what he preserves to be this outside world. These strange occurrences build and build filling Elliott with peculiar emotions and tendencies that begin he change his mannerisms and tendencies. As this feeling grows he begins to feel a want or even more so a need to leave his house and go into this other known world of unknown existence.
For this project I will be collaborating with two individuals on the art and construction portions of this animation.  I will be collaborating with Mike Lewin on the armature, set, and prop design, construction, and detailing. Mike is an extremely talented artist and machinist who has won numerous awards for his sculptures and has been milling and machining for over twenty-five years. Through sketches and discussions of character design by Mike and myself, he will adapt and design a ball and socket armature to fit the requirement of the animation and the limitations of the tools available. After the armature design is completed and is capable of producing all the desired movements and positions of the character, Mike will mill and machine all the ball and socket joints from scratch. He will also shape and carve lightweight wood for the stationary sections of the figure such as the abdomen and pelvis. This will give the armature a strong structure but still be light weight. He will also create separate replaceable parts for certain sections of the armature, such as the fingers certain joints. So, if a part breaks during a shoot I can replace the piece without ruining the shot. This is critical due to the time limitations and the amount of animation that needs to be done. Mike will also aid in the design and construction of the stop motion set and prop elements, even down to the painting and detailing of every single small element. After all the materials for the animation are constructed and I begin to shooting the animation, I will go to Mike if there are any repairs or modifications that need to be done to the puppet or set. I will also be collaborating with McKayla Sewnsew on the sewing and puppet costume elements of the project. McKayla is an extremely talented seamstress that has participated in multiple fashion shows, created costumes for stage and screen, and works as a costume and sewing technician. McKayla will help to choose the correct fabric for the puppet's clothes and curtains for the windows of Elliott's home. The characteristics of the fabric we're looking for are that the fabric does not give a large amount of shine or reflection from the set lights, has qualities of stretchiness that will enable the garments of the puppet to fit over the large joints of the puppet but still give a tight fit, and will not crawl or move while animating for long periods of time.
The projected length for this animation is approximately 15 minutes.
"You want to captivate people. It doesn't come with just technique, its about putting yourself inside that character. Its like slowing down your brain and all of a sudden you are that puppet and you move how that puppet moves."
-Guionne Leroy: Animator on Chicken Run, Toy Story, and James and the Giant Peach

"[The] early story phase is like feeling your way through a dark cave, blindfolded, with no flashlight. Any idea is welcome. There are no bad ideas at this point."
-Don Hahn: Producer on The Lion King, The Nightmare Before Christmas, Beauty and the Beast, Who Framed Roger Rabbit

"Story-writing is like solving a great puzzle made up of dozens of elements. Think of Rubik's Cube. You twist the sides around to see if a given combination will work, then you twist it again, and again, until it comes out right. Along the way, you probably have to discard a few things as well, and that can be the hardest part."
-Peter Lord: Director on Chicken Run, founder of Aardman Animation Studio
Workflow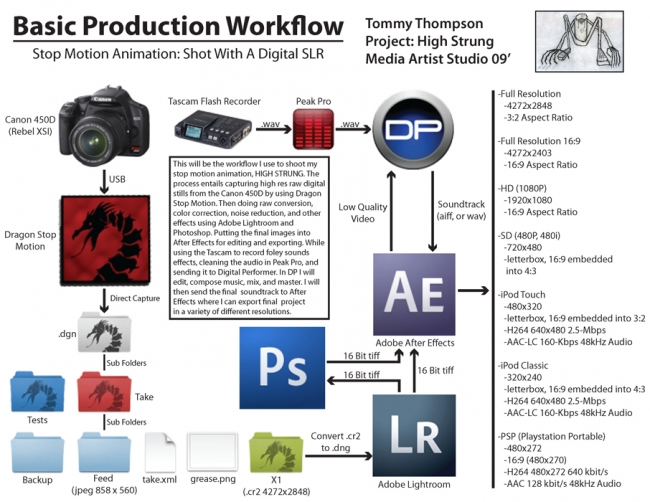 *click to enlarge, then click full size link to view even larger
Nuke Cleanup Tutorial – Temporal Clone Painting and Grain Manipulation from Jed Smith on Vimeo.
Timelapses
Working in the Design Lab
Sewing Pt. I
Sewing Pt. II
Setting up in the 3D Lab