The world of laptops is drastically changing. Since the inception and subsequent success of Apple's iPad, companies like Samsung, HP, Dell, Toshiba, and Microsoft have been scrambling to create 'The Next Big Thing' in mobile computing technology. Android, Windows, Blackberry, and Kindle have all been competing tooth and nail for large chunks of the Tablet market for several years, without much success. As a result, the traditional laptop appears to be on the decline. Who needs an enormous graphics processor, large storage space, and gratuitous RAM when you can do all you need to from the cloud, on your iPad, with 6 hours+ of battery life?
We have all seen it: at the airport, in a coffee shop, in our own living rooms – family members, business people, and grandparents – all with their iPads, tapping away at some email, YouTube video, or Angry Bird's game. What place do traditional laptops have in a world where their function has been rendered nearly obsolete? There are those who would argue that laptops (and traditional computing in general) serve a much more utilitarian function, have full keyboards, and are much more versatile than their tablet successors. But clearly the market has chosen a clear winner – or has it? What if you could have the best of both worlds? A tablet like experience with the inherent functionality of a traditional laptop? Enter Google's Chromebook:
Clocking in at an incredibly light 2.42 lbs, the Samsung Chromebook is Google's new saving grace: At $249 this is without a doubt one of the most affordable machines in modern computing. It comes with Google's own Chrome OS, which is an interesting middle ground between their Chrome web browser and a more traditional desktop OS. With a light 2GB's of RAM and only 16GB's of SSD storage, the Chromebook is not without its limits.
Google's star child is not able to run graphics intensive programs like Photoshop, Windows software like Microsoft Word, or games like Minecraft. While this can be limiting for some, the best part about the Chromebook is that it provides surprisingly good (and mostly free) alternatives for most traditional software. For word processing and the like, Google Drive (formerly known as Google Docs) provides an incredible amount of features, including the ability to make slideshows, spreadsheets, and save your work to the cloud – all for free. For most people, this is a better deal than Microsoft Word. Chromebook also comes with its own basic, built-in photo editor, and users have access to many Chrome Extensions that operate very similarly to Photoshop, all from your web browser.
What Google has done with the Chromebook is nothing short of incredible. They have managed to create a competitive, feature filled, affordable laptop in a market that can barely make half its quarterly revenue. The device itself is incredibly portable, has a generous battery life (sometimes 7+ hours!), a smooth, spacey keyboard, and a webcam to boot! Despite its limitations, for the average computer user, especially someone who has considered a tablet over a laptop or traditional desktop computer, this device is more than ideal.
As a student, I have had the pleasure of using the Chromebook for close to 6 months. I can easily connect to the web in class and load my homework (via Google Drive), browse my.evergreen with ease, and I was even able to do my final presentation in class (slideshow and all) on the Chromebook, which connected easily to the HDMI port in the presentation room. This has easily been my most productive year, in part because in the months that I have owned the Chromebook I have not encountered a single error, lag, or virus. And what happens if for some reason you do? Just Powerwash it, and log in again.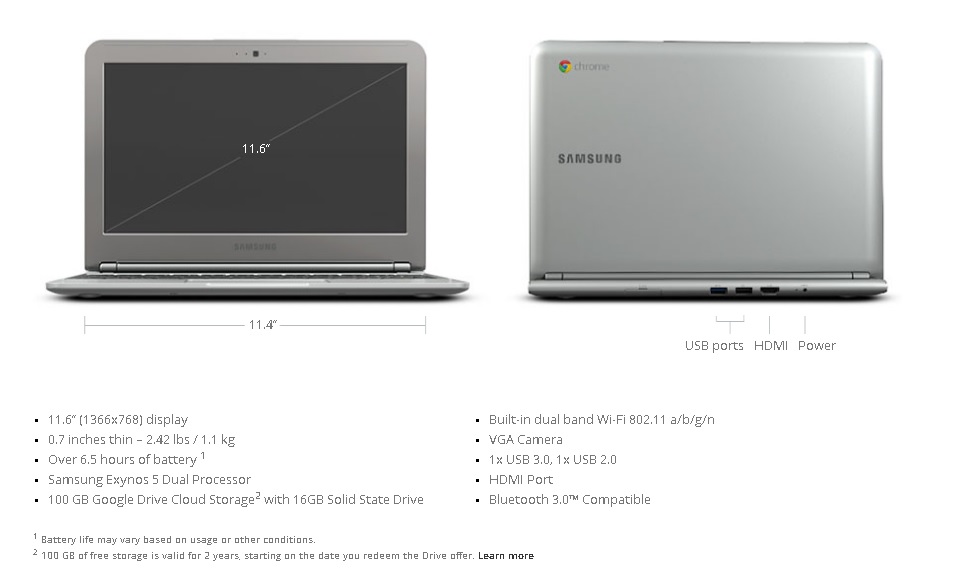 If you would like to purchase a Chromebook locally, they can be found at any Best Buy or major electronic retailer – or online on Amazon or the Google Play Store.