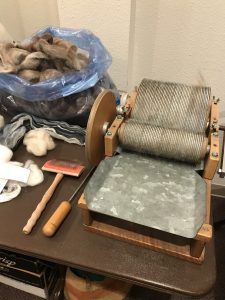 This past week at the spinning class at Arbutus Folk School, we began to dive into carding and picking fibers. We started class by going over the basic tools and equipment used in carding. Emily was kind enough to bring both her drum carder and hand carders with her to class, so we were able to get hands on experience.
The drum carder is just a mechanized version of hand carders – instead of manually brushing the two up against each other, you simply turn the knob that spin circular carders against each other, thus creating the same effect in a much more efficient manner. I also found that the drum carder was easier for keeping the carded fibers together which then makes it a bit more simple to draft from.
While experimenting with the carders, I was able to blend alpaca, Jacob's wool, and linen together and I'm pretty excited to try spinning it. I learned pretty quickly that I much prefer spinning alpaca to sheep's wool, but the alpaca was a bit elastic and didn't want to come off the carder – that's where throwing the Jacob's wool into the blend helped a lot.
I actually had no idea how versatile and easy it is to blend different materials, and its actually led me to wonder why we don't do more of that in the modern day fashion industry. Surely utilizing even a little bit of many different kinds of readily available fibers makes much more sense than only using two or three crops for the entire world's textile market.
I'm really excited to have had the opportunity to have this hands on experience – I've come up with ideas that I never would have even begun to dream if I had not gone back to the basics of textile production. Over the course of the next week I will be spinning, plying, and hopefully (if I have the time) dying the alpaca blend that I created.