Classes are well underway on campus as students and faculty get settled into fall quarter. The recent orientation for new students included a common reading of Just Mercy: A Story of Justice and Redemption by Bryan Stevenson. The autobiography chronicles Stevenson's early years as an attorney for the nonprofit he founded, the Equal Justice Initiative.
"JUST MERCY is at once an unforgettable account of an idealistic, gifted young lawyer's coming of age, a moving window into the lives of those he has defended, and an inspiring argument for compassion in the pursuit of justice."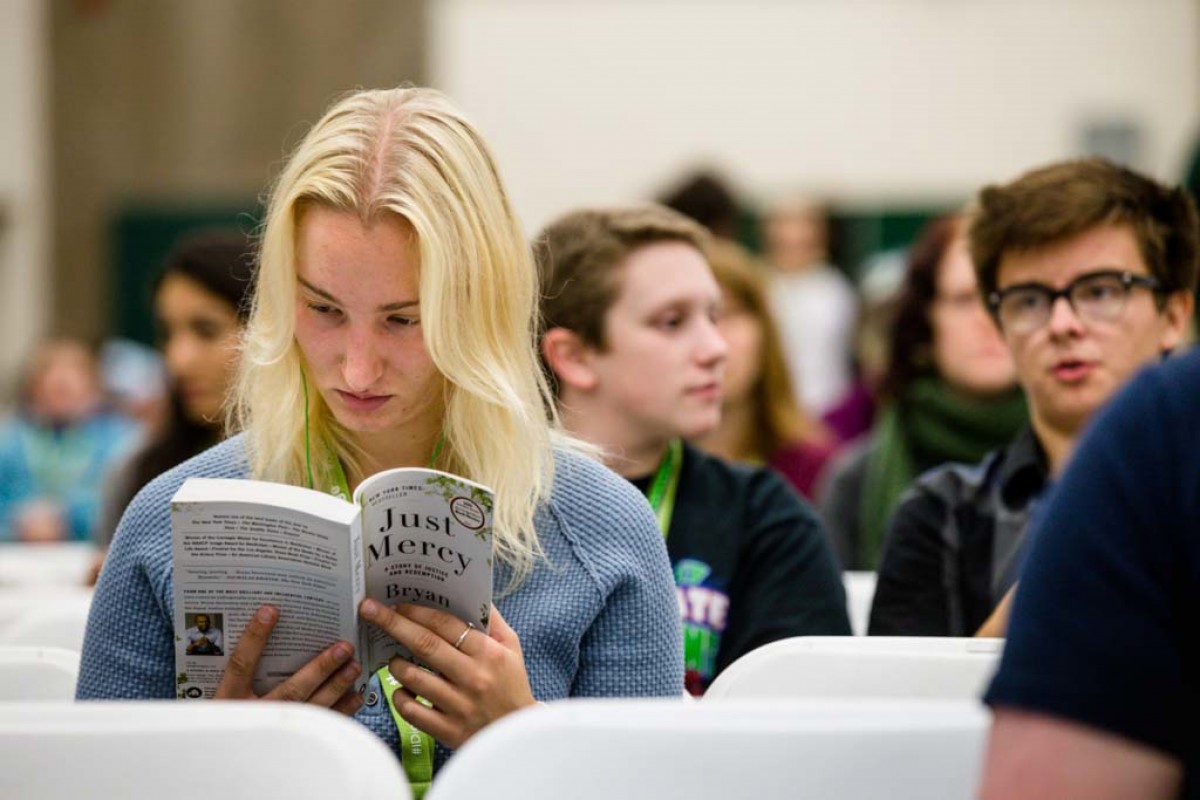 After reading the memoir over the summer, students had the opportunity to seminar about it throughout Orientation Week and then come together at the convocation event Dig Deep: Introduction to Your Education, which centers around a keynote panel of experts who discuss themes presented by the book.
Has distance made your heart grow fond for seminar? Alumni don't have to miss out on an intellectually-stimulating conversation: this year's Return to Evergreen includes a seminar on Just Mercy! Dig deep with fellow alumni and friends on Saturday, November 4th for a lively seminar led by faculty member Rebecca Chamberlain and faculty emerita Susan Fiksdal.
Described as a "powerful true story about the potential for mercy to redeem us, and a clarion call to fix our broken system of justice—from one of the most influential lawyers of our time," your facilitators will provide context and quotes from the text and help you explore several topics related to our existing justice system, how it fails, and ways to make real lasting change. You will receive a copy of the book so that you can explore the themes from our seminar in depth.
The active reading and seminar will be facilitated by:
Rebecca Chamberlain

Member of the Faculty
Rebecca Chamberlain earned a B.A. in English from Seattle Pacific University and an M.A. in English from the University of Washington. Her expertise is in comparative literature, writing, and oral narratives. A Northwest writer, storyteller, educator, and activist, her publications include poetry, essays, articles, research, and curricula. Her interdisciplinary work explores culture, language, and communications; folklore and mythology; astronomy and cosmology; natural history, environmental, and outdoor education; arts in education; and contemplative practices. She has published papers with Evergreen students on subjects as diverse as binary star research and citizen science, and with Salish elders on language, culture, and sustainability. Her poetry has been featured in international journals. Rebecca has been teaching at The Evergreen State College since 1996, and has served on the on the Board of Governors for The Evergreen State College since 2011.
Susan Fiksdal

Member of the Faculty Emerita
Susan Fiksdal first came to Evergreen in 1973 with a M.A. in French from Middlebury College in Vermont. She taught Linguistics and French language classes, and later served as Academic Dean at Evergreen. After eight years of teaching, she had many questions about language and went on to study at the University of Michigan and received a Ph.D. in Linguistics in 1986. Her second book, A Guide to Teaching Seminars: Conversation, Identity, and Power, was published in 2014.