2019 02.23 Grass Lakes Field Day
Saturday, February 23, 2019
Grass Lakes Reserve – 14th Avenue Site
Location – park along shoulder
10:00-1:00 WORK PARTY (WETLAND RESTORATION PLANTING)
1:00-1:30    GRASS LAKES SITE TOUR
1:30-3:30   TECHNICAL WORKSHOP – CUTTINGS IN REVEG
The Ecosystem Guild is a volunteer collective, working to restore watersheds and build our ecological skills in good company.  Late winter, between Candlemas and Equinox, is the time to finish plantings.  We call it Budswell.  Join us for whichever part suits you:  work party, site tour, workshop, campfire, or the whole day.
WETLAND RESTORATION PLANTING
Work Party (10:00a – 1:00p)

Help transform an old reed canarygrass pasture back into swamp.  Rubber boots are necessary to work in the wetland, and be prepared for the weather!    We will be supporting city parks in this initial planting.  Consider a carpool, as parking is  limited at the site.
GRASS LAKES SITE TOUR

Site Walk (1:00p – 1:30p)

Take a quick walk with maps around the restoration areas and surrounding ecosystems at the core of the Grass Lakes Nature Reserve Education Area.  Learn how we read landscapes, and about the Green Cove Creek Watershed as we prepare for the 2019-20 re-vegetation season.
USING STEM CUTTINGS IN REVEGETATION
Open Workshop (1:30 – 3:30 hrs)
Space Limited – RSVP For Attendance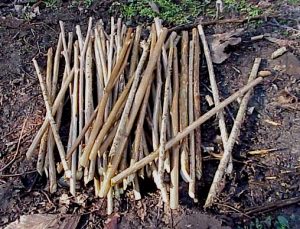 Many are familiar with sticking willow cuttings, but a diversity of native plants can be propagated by sticking un-rooted stems in moist earth.  Cuttings are free, easy to transport, and fast to install, allowing for high density plantings at low cost.  Learn winter twig identification, mother-plant selection, and the physiology of adventitious root formation.  You will learn about processing, storage, and different strategies for planting livestakes within a re-vegetation framework and based on integrated social-ecological assessments.
Cost:   We encourage you to make a voluntary gift based on your gratitude for the information and time being offered (Dāna).  Consider what you might pay for this knowledge in another setting, make good use of the knowledge in service, or join us in  restoration or protection of Green Cove Creek. Cash donations will be spent on equipment and supplies to restore the Green Cove Watershed.

Instructor: Paul Cereghino is a Restoration Ecologist with 30 years of experience in horticulture and restoration planning.  His graduate research explored the use of un-rooted cuttings in restoration.
DINNER FIRE
Guild Gathering – Kaiser Barn (1700 hrs)
RSVP for location – Parking Limited

Join our local chapter of the Ecosystem Guild for our seasonal planning meeting and fire. We will cook stuff on fire, talk about the day, and figure out our next steps to restore the Green Cove Watershed, South Puget Sound, and the Salish Sea.
FLIER