I'm pleased to share this article from past Student Trustee Emily Dunn-Wilder about a truly unique program and dining experience honoring Evans Scholar Dr. Donna Haraway.
Only at Evergreen do you get a student-designed, seven course farm-to-table dinner that interprets a famous scholar's academic work through food sourced locally and from alumni-owned businesses.
Annie Sloan, a junior at Evergreen, led students from the academic program Terroir: Chocolate, Oysters, and Other Place-Flavored Foods in planning and executing a seven-course dinner for Dr. Donna Haraway. Distinguished Professor Emerita at University of California, Haraway was this year's Daniel J. Evans Chair Lecturer in Liberal Arts and was invited to Evergreen to speak as part of the Anthropocene Lecture Series.
Instead of treating the Evans Chair to dinner at a fancy restaurant in downtown Olympia as is tradition, former student of Dr. Haraway and Evergreen faculty member Sarah Williams proposed a student-led dinner of locally sourced food hosted at Evergreen's Organic Farm.
President George Bridges was in attendance to help student Armando DeLao and graduate Maxwell Cohen shuck the Totten Inlet and Samish Bay oysters purchased from Son of A Beach Shellfish Farm and Taylor Shellfish Farms. The oysters were served with a tapioca pearl mignonette.
Each course was  based on a quote or concept from Dr. Haraway's extensive work. Student Annie Sloan said, "I read A Cyborg Manifesto in 2009 and it blew me away. I link almost everything I read to feminism and food, but Haraway changed the way I viewed both. When Sarah asked me to do the dinner, I didn't start thinking about local farms or composed dishes, I thought about Donna Haraway's figuration's. Her work became dishes in my mind. It made sense to ingest her theoretical concepts in the spring, and to eat them communally."
The third course, entitled Coral Reef: Spring in Olympia, was artfully created with green garlic, purple sprouting broccoli from Urban Futures Farm owned by alum and adjunct faculty TJ Johnson, pine tips, radishes, and purple daikon on top of nettles, inspired by Dr. Haraway's work concerning reefs created by toxic fibers.
The fourth course, Pork and Beans based on Jane Goodall's dinners, "There is only one jarring note in the scene of the female representative of man alone in the Garden-she eats a spare dinner of pork and beans from a tinned can." (Primate Visions by Dr. Haraway) The beans were slow-cooked with lavender, rosemary, and pork from Evergreen graduate Evan Mulvaney's Hidden River Farms in Montesano.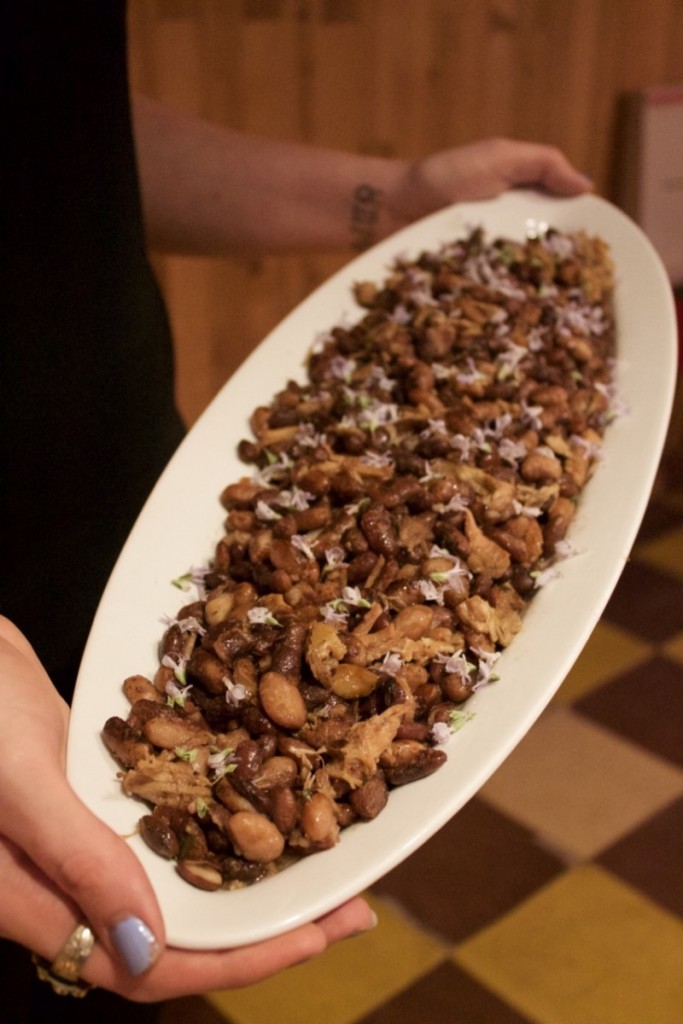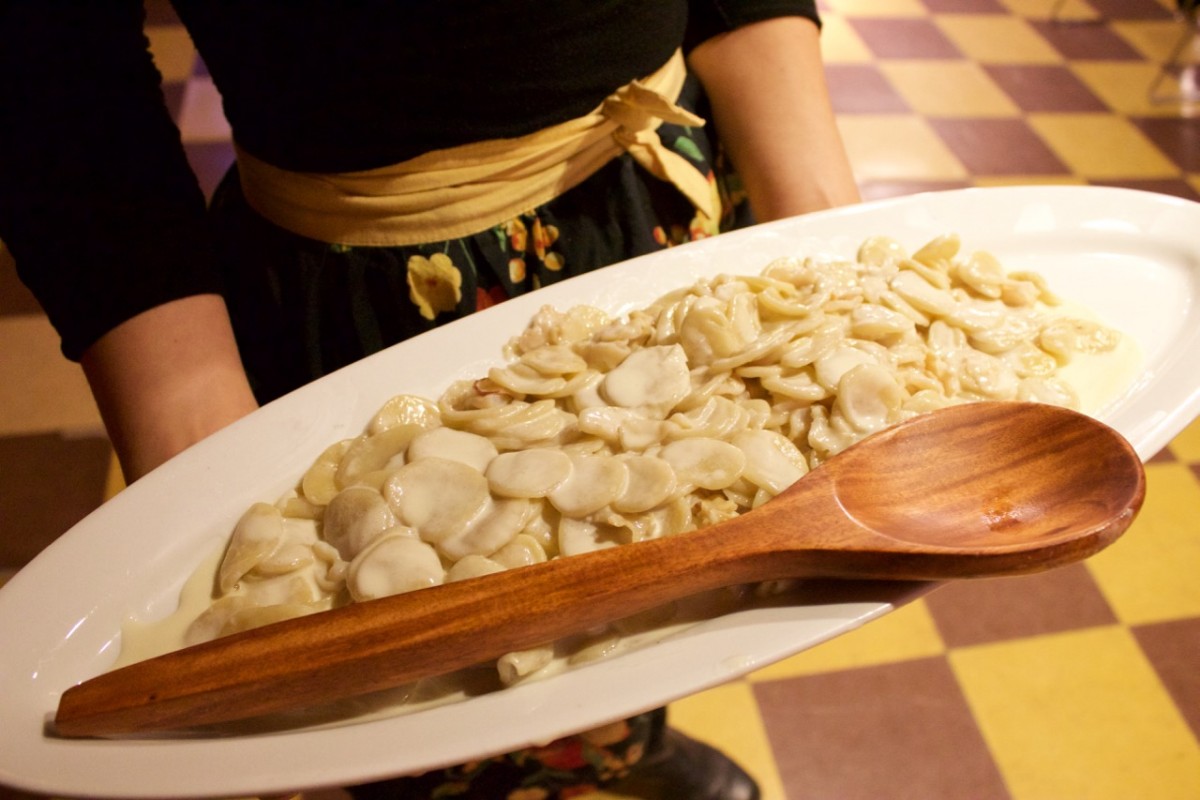 As always, the geoduck mascot was featured, both in a course entitled Companion Species, and in a mask gifted to Dr. Haraway. The mask was made from geoduck skins donated by Taylor Shellfish's Xihn's Oyster House in Shelton, which were crafted and molded using leather-tanning techniques by students Owen Day and Aurora Sonenshin. The geoduck mask inspired the graphic on the dinner menus, drawn in ink and lung tincture by Annie Sloan.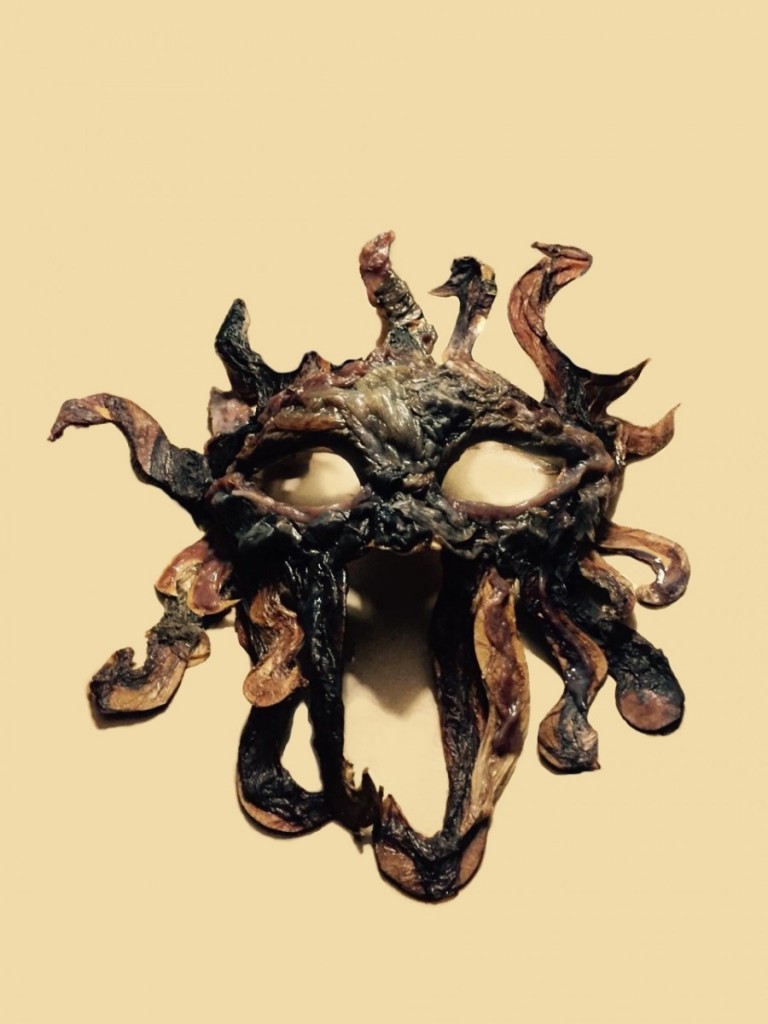 A dessert course, accompanied by Ray Charles on the record player, closed the evening with coffee from Olympia Coffee Roasters (owned by alumni Sam and Oliver), raw cow's cream from Sigmon's Raw Dairy in Rochester, coconut sugar from graduate Ben Ripple's Big Tree Farms, and fennel and rose liqueurs from Salish Sea Organic Liqueurs (owned by alumni Sam Desner and former Board of Governors Sandy Desner). Tastebuds were further treated to a rhubarb and parsnip layered crepe cake, peas dipped in woodruff-scented whipped cream, and salted-butter caramel on pie crust.
Annie Sloan, Daniel Saunders, Bonnie Zion, and Lydia Hammond served and prepared the meal.