Quick flashback: The Evergreen Magazine, Spring 2009
A young girl runs through her back yard, where her father has planted golden bamboo in a cool, rustling jungle. She grabs a few poles and imagines the next project she can create from their woody stems. Close to 40 years later, Jackie Heinricher '86 runs Boo-Shoot Gardens in Mt. Vernon, Wash.,
a multimillion-dollar biotechnology company . …(Story continued on Evergreen Magazine web page.)
Jump Forward to May 7 2013: Jackie's world has gotten very big and her passionate message about the global benefits of bamboo cultivation are being heard in very influential places.
Provitro Biosciences  [formerly Boo-shoot Gardens] has been awarded the first-ever U.S. patent for large-scale production of bamboo plants enabling commercial production of fast growing, high yielding timber bamboo. Here is an excerpt from Provitro's announcement:
MT. VERNON, Wash., May 7, 2013 /PRNewswire/ — Provitro Biosciences LLC (or "Provitro"), a subsidiary of Pendrell Corporation (NASDAQ: PCO) today received a patent from the United States Patent and Trademark Office covering foundational technologies that enable the rapid, disease-free, and high volume production of bamboo plants for the first time. The patent issued today reflects more than a decade of innovative research by Provitro in the field of non-genetically modified commercial-scale plant propagation methods.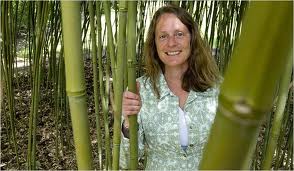 The awarding of this patent is the latest success springing from the micropropagation of bamboo – a process Jackie and her team, working from their labs in Mount Vernon, Washington, achieved through years of intensive research and development.
"The technology developed by Provitro lays the foundation for serving vast global markets with a reliable, economical and environmentally beneficial source of alternative fiber that has previously not been available on a commercial scale," commented Jackie Heinricher, chief executive officer of Provitro Biosciences. "This patent reflects years of groundbreaking research efforts by the Provitro team, and underscores the potential we see in this technology."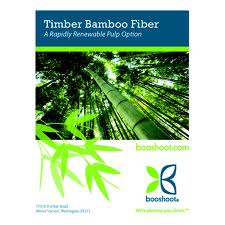 Prior to Jackie's work with bamboo genetics, the 1,200 known varieties of bamboo were slow propagators, most strains flowering only once every 60-120 years.  Jackie's breakthrough means that bamboo can be produced quickly and on a scale that will support production of timber, biofuels, textiles, building materials and who knows what else?  Well, our guess is that Jackie knows.  And if she doesn't know it today, she will tomorrow.  And the world will know the day after.