Training
Washington Sea Grant offers a range of classes and workshops that help marine professionals improve their skills, while promoting a safer, pollution-free environment. Other classes provide community members with tools for supporting their marine environment.
WSG Workshops
Corrosion Control
Diesel Engine Troubleshooting
Fishermen's Direct Marketing
Oil Spill Prevention Training
One-Day Sea Safety Refresher Training
Rules of the Road/Practical Navigation
Marine Weather
Marine Wiring
Sea Safety and Survival 3-Day Drill Instructor Class
Training for Shoreline and Coastal Planners
Vessel and Boatyard Maintenance
Youth Coldwater Safety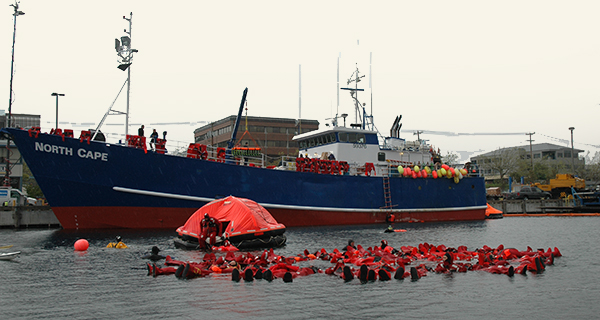 Marine Safety and First Aid Training
Sarah Fisken, Marine Operations Specialist
WSG helps Washington fishermen reduce risks with port-based, U.S. Coast Guard-certified training in emergency preparedness, fire response, cold-water rescue, first aid and other safety measures, using the latest equipment and procedures. Staff specialists also train recreational boaters in first aid and at-sea safety and survival. Since the mid-1990s, WSG safety training classes on Puget Sound, Washington's outer coast and the Columbia River have markedly reduced fatalities in several fisheries.
Topics covered in First Aid at Sea courses include patient assessment, hypothermia, cold water, near-drowning, shock, trauma, burns, fractures, choking, immobilization and important contents for first aid kits.
WSG experts also train commercial fishermen and charter boat operators in how to conduct safety drills at sea. These courses meet the training requirements of the Commercial Fishing Safety Act. The course work combines lectures and hands-on experience with the safety and survival equipment required on commercial fishing vessels. Fishermen and boaters learn about emergency procedures and develop appropriate drills for their own vessels.
<!–Get the current workshop schedule or register for classes at Events.–>Email Sarah Fisken at sfisken@uw.edu
<!– change to get rid of category and post footer on outreach pages
–>