Allies and neighbors of Canada have called for a formal investigation into Canada's refusal to offer full protection to polar bears. Canada currently only offers limited protection to polar bears. Officials have not given enough importance to research predicting the immense loss of polar bears ongoing and in the near future.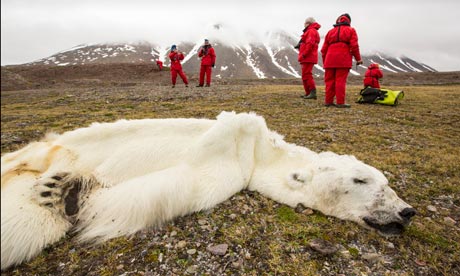 [Image source: The Guardian]
Polar bears in Churchill, Manitoba, Canada 
Polar bears visit this area (especially garbage dumps) and it is one of few places where people can see polar bears in the "wild" without having to go too far into the wilderness. Is it healthy for polar bears to be this kind of tourist attraction? Can this tourist attraction be used to help raise awareness and funds for polar bear conservation?
More on Polar Bears..