APIA History and Contemporary Rhetoric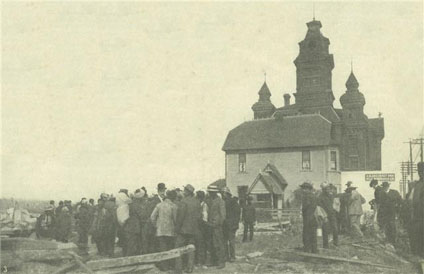 http://depts.washington.edu/civilr/bham_history.htm
Reading Asian American History left gave me a nice introduction into the many challenges Asian Americans faced in the past hundred years. The text produced familiar stories to me in the form of the South Asian experience as well as the Vietnamese experience. Roots and Reflections: South Asians in the Pacific Northwest, by Bhatt and Iyer, informed much of my reading about South Asian migration prior to this assigned text. My memory flashed when I read about the Chinese being pushed out of the Pacific Northwest. In Roots and Reflections, the authors opened with a somewhat similar story of the Bellingham expulsion of Indian workers in 1907. After both of these events, the Chinese and the Indians that used to live here didn't start coming back until recently. In seminar one of my fellow students brought up the fact that Americans saw immigrants as a threat to their businesses, so they chose to expel them out of business interests. While I agree this could have applied to the situation, I think we also need to look at the context of both of these situations. Many of the jobs immigrants worked were labor jobs, such as logging or agriculture. The people in Bellingham probably assumed that more jobs being taken up means less jobs for them, as if a job is a limited, restricted unit.
Does this rhetoric sound familiar? To me it sounds reminiscent of Americans today who blame Mexican immigrants and migrants for taking jobs. They are "taking our jobs" and "killing us" is what President Trump said in a rally in Phoenix during his campaign. However, this type of scapegoat rhetoric doesn't hold up nearly as well when you look at the history of America and its scapegoating of every new group of immigrants to come to the United States. History is important to study so we can separate myth from reality. In this case, historic records capture the scapegoat rhetoric of "immigrants are taking our jobs" as something that people in power have used to divide this country. I'm left asking myself whether people who align with this rhetoric simply do not know or remember how these situations led to civil rights injustice, or if they are willing to look past these truths in favor of some other "deal breaker." Which makes me wonder where the ethnographers have been.
http://www.politico.com/story/2015/07/donald-trump-storms-phoenix-119989
This is just one example of why we should study history because it certainly feels like it is repeating itself nowadays.